"Being a dentist is one of the best careers. We are able to transform people's lives through dentistry. I love connecting with each patient and learning their stories. It is very rewarding to take care of people. I strive to have a calm and relaxing demeanor that puts patients' anxieties and fears at ease."
Dr. Louie was inspired to become a dentist after seeing how his father and grandfather, both dentists, could deliver joy and service to their communities. Growing up in the East Bay, his exposure to his father's practice illuminated the profound impact dentistry has on individuals' confidence and overall well-being. This early experience ignited Dr. Louie's desire to follow in their footsteps, driven by a fervent commitment to enhancing lives through dentistry.
By acknowledging the uniqueness of each patient, Dr. Louie ensures every patient is treated like family, not just another case. He crafts comprehensive personalized treatment plans, and optimizes care to individual needs. Dr. Louie's eagerness to connect with patients on a personal level, providing tailored care that reflects their dental requirements, resonates with his mission to restore confidence and transform lives.
Excellence in Education
Dr. Louie graduated cum laude in biological sciences from the University of California, Irvine, before attaining a Doctorate of Dental Surgery from the University of the Pacific Arthur A. Dugoni School of Dentistry.
His expertise in cosmetic dentistry merges artistry and science, enabling him to craft transformative smiles. Trained under the guidance of influential cosmetic dentists in New York, he adeptly analyzes facial structure, smile lines, and dentition to restore smiles to their full radiance.
Currently, Dr. Louie is continuing his education in surgical training in implant placement through the Implant Pathway Continuum in Phoenix, Arizona, specializing in aesthetics, which equips him with the tools to craft smiles that are truly works of art.
Professional Memberships
Outside the Office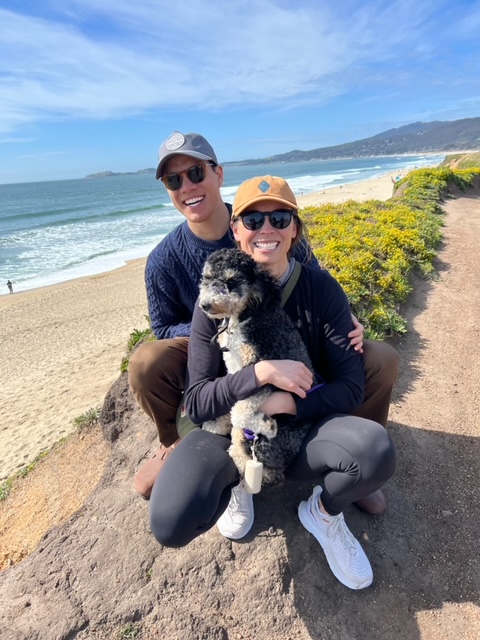 Dr. Louie is happily engaged to Dr. Jacqueline Payne, an orthodontist in town. Their family is completed by Indie, a Mini Bernedoodle who holds a special place in their hearts, and who makes special appearances in the office by request!
Outside of his professional commitments, Dr. Louie is a true outdoors enthusiast. He loves backpacking escapades in the Sierras, enjoys the thrill of mountain biking in Annadel, and visits the exhilarating slopes of Lake Tahoe for skiing adventures. Additionally, his passion for photography allows him to capture the beauty of nature and cultures during his travels to new countries.
A Focus on Community
With a passion for making a positive impact beyond the confines of his practice, he has journeyed to Punta Gorda, Belize, in 2008 and 2012, as well as Cebu, Philippines, in 2018 and 2019, to extend much-needed dental care to underserved communities.